Why Dental Cleanings Are Important
Posted by Elan Dental on Oct 13 2021, 09:34 AM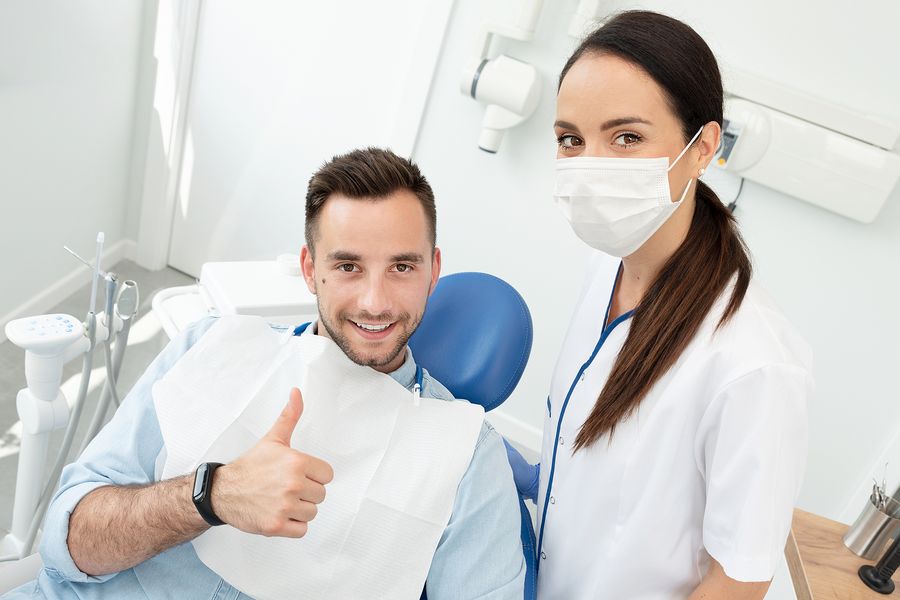 The initial step towards achieving a healthy, aesthetic smile is brushing and flossing your teeth at least once every day and rinsing the mouth using a non-alcoholic mouthwash. Starting and ending each day with a clean set of teeth and stimulated gums can help one achieve optimum dental health and a bright smile.
However, good at-home oral hygiene habits are not enough to keep all dental diseases at bay. The American Dental Association recommends visiting the dentist for regular dental checkups and tooth cleanings every six months.  
What Does A Regular Dental Cleaning at Our Dental Office Include?
Regular dental cleanings always mean improved oral and dental health. A dental cleaning at our dental office typically involves the following steps:
We start the teeth cleaning process by conducting a physical exam of our patient's entire mouth. The teeth and gums are checked for cavities, tooth decay, signs of gingivitis, or other concerns. If any major issues are detected, we will plan further treatment action. 
Our dentist or dental hygienist uses a scaler to eliminate plaque and tartar from around the patient's gum line and in between the teeth. Scaling and root planing are usually recommended if a patient's gums or surrounding tissues have become damaged due to gum disease. 
The next step in regular dental cleaning involves expert flossing to remove any food debris, and leftover plaque stuck in between the teeth.  
After removing plaque and tartar, teeth are polished to eliminate dental stains and keep the teeth smooth and soft, reducing bacteria and plaque buildup.
We apply a fluoride gel to the patient's teeth to restore or strengthen their teeth's enamel.
Besides cleaning the teeth, our dentists give recommendations to our patients on practicing proper oral hygiene routines and provide dental health education to maintain optimal oral health. 
If your regular dental cleaning is long pending or if you suffer from tooth decay or gum disease, do not hesitate to make an appointment with Elan Dental for a professional dental cleaning. These are the major advantages that our patients will enjoy while having a regular dental cleaning at our dental office. 
Plaque and tartar removal- The buildup of tartar and plaque around the gum line can cause severe gum problems. However, it is impossible to remove all the debris, bacteria, and plaque from the gum pockets only through brushing and flossing. A regular dental cleaning by our experienced dentist using specialized dental equipment can catch this damaging plaque accumulation and eliminate it before it advances.
A healthier and aesthetic smile- A visually appealing and attractive teeth is the one that is bright and stain-free. Stained and discolored teeth can affect one's smile aesthetics. A professional dental cleaning at our dental office twice a year can effectively get rid of these unsightly stains from the teeth.
Fresher breath- Severe gum disease can always lead to chronic bad breath. Removal of plaque, tartar, calculus, and bacteria from the teeth and mouth can help reduce dental infection and bad breath.
What Happens When One Misses Teeth Cleanings?
If you fail to follow good oral hygiene habits, it can badly affect your dental health, leading to tooth decay, cavities, gum disease, and more. Besides these, lack of proper oral hygiene can also cause the following: 
Gum infection.
Halitosis or severe bad breath as a result of advanced periodontitis.
An impaired capacity to chew and properly digest foods, causing nutritional and systemic health issues.
Harmful effects on one's cardiovascular and overall health.
Do you wish to improve your oral health through regular oral hygiene practices? Call Elan Dental at (919) 556-6761 or schedule an appointment online.